Is anyone immune to stinky sports gear? It's one of those things that us active folks have just come to accept, resorting to holding our noses each time we slip on those running shoes or boxing gloves. But does it have to be that way? Here at Kobi, we don't think it does! Read on to find out why.
What causes sports gear to stink?
Is it really our body sweat that causes our shoes, pads, helmets, gloves, and other pieces of sports equipment to smell so bad? Well, sort of, but indirectly. The stink formula actually looks something like this:
Sweat = Moisture = Bacteria = Smelly Gear
So you see, it's really the pesky bacteria that like to come along and feed on our sweat (gross, I know) that cause the stink. Then, when left untreated, those odors can become engrained in the fabric, resulting in the unpleasant lingering smells we've all experienced.
How can I get rid of the pesky bacteria?
When attempting to de-stink sports equipment, the first step is to get rid of the odor-causing bacteria that's already there. To do this, we recommend grabbing a bottle of our Gear Therapy Odor Eliminator Spray to eliminate the bacteria naturally, without using any harsh chemicals.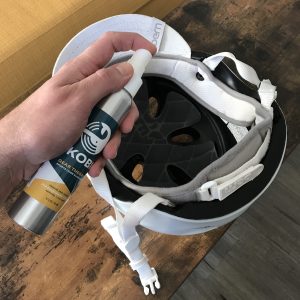 But if you simply can't wait for your Gear Therapy Spray to arrive, there are a number of antimicrobial household chemicals that could be poured into a spray bottle and used as well (e.g., rubbing alcohol or hydrogen peroxide).
One of the additional advantages of our Gear Therapy Spray is that it also contains an ingredient that lifts set-in odors out of fabric. This important, nose-saving step wouldn't be achieved if using one of the above-mentioned household chemicals. You also wouldn't get to experience our amazing Orange Zest scent!
How can I keep the stink away once it's gone?
Of course, even when the odor-causing bacteria is gone, it can always return the next time the equipment is used and moisture is once again present. Frequent spray-downs will help, but we also recommend getting ahead of the problem by removing the moisture from your sports gear as soon as possible after use. That's why we just recently launched our Gear Therapy Odor Eliminator Pods.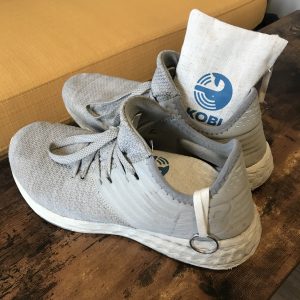 These magical little pods contain a mixture of ingredients (natural, of course!) that are highly effective at pulling moisture out of the air, as well as capturing airborne odor particles. Simply slip them inside your shoes, gloves, or sports bag after use and leave them there until you're ready for your next game or workout.
Our Gear Therapy Pods are a great solution for long-term odor control, especially when used in conjunction with our Gear Therapy Spray. Your sports equipment will never smell the same again — and that's a beautiful thing.