Kobi is a new brand of natural body care products for kids and teens. Inspired by my friend's active nine-year-old daughter who suddenly developed "the funk", the idea for Kobi was born when searches for a great kids' deodorant yielded only a few options that were either unhealthy, uninspiring, or irritating to sensitive skin.
To me it seemed counterintuitive that there were literally hundreds of compelling, natural personal care options for us grown-ups and our tougher skin, but next to nothing for the portion of the population that really needs gentle, thoughtful skincare products the most. So, I decided to do something about it.
After much research, experimentation, and testing, I launched our Natural Sport Deodorant in late 2020 and from that point on we've been making the world a little less stinky two armpits at a time. Since then we've also launched our 4-in-1 Body Powder and Fresh Foot Spray, plus our Gear Therapy line for stinky sports equipment, with much more to come!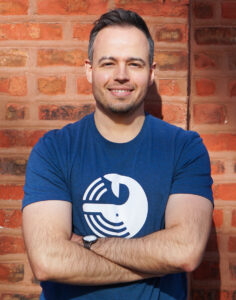 Siôn Owen
Chief Stink Officer
As a for-profit company, our core business is selling great body care products for active kids and teens. But in the process of doing that, we also want to contribute to the youth sports community that gave us so much enjoyment in our own childhoods. So, at Kobi we have a two-pronged mission that looks like this:
1. Help kids look, feel, and play their best.
The Problem: Most personal care products are too harsh for young skin.
Our Solution: Safe, gentle, and effective products that kids can count on.
2. Improve access to youth sports.
The Problem: Sports have become too expensive for many lower income families.
Our Solution: Support local and national programs that are helping more kids play.
To learn more about how we're enabling more equal access to youth sports, please visit our Impact page.
Our Values
Here's what matters to us at Kobi.
Confidence 
We're boldly pursuing new approaches to personal care, and through our products and messaging we want to help give young athletes the confidence to pursue their goals on and off the field.
Safety
We only use the best naturally-derived ingredients that are known to be 100% safe for kids and teens, are free of common allergens, and are mild enough to not irritate sensitive skin.
Inclusivity
From toddler to teen and all in between, kids of any age can use Kobi. And while we've found that boys often prefer certain scents and girls often prefer others, we don't mention gender on the label.
We're based in Chicago, where our products are carefully manufactured by humans in small batches. And we're constantly looking at new ways to help your little stinkers look, feel, and play their best. Be sure to join our newsletter below to be one of the first to know when we launch new products and specials!
Our name stems from our founder's interest in Japanese culture — "Kobi" is a slight twist on the name of the Japanese city, "Kobe." Japanese artisans focus heavily on high quality, the pursuit of perfection, and maintaining a strong connection to nature. We're striving to do just that in Chicago, too!