Welcome editors and journalists! Thanks for considering Kobi for your next story. This page is our digital press kit, containing lots of information about us and our products. For anything we've missed, or to set up an interview, please reach out to sion@wearekobi.com.
Our story
A few years ago, the daughter of a friend of our founder (Siôn Owen) turned nine and suddenly developed "the funk." When nothing could be found on the store shelves for her age group, Siôn set out to create a deodorant that was gentle on sensitive skin, but strong enough to withstand the heavy activity levels of a sporty lifestyle. Sixty product iterations later, Kobi was born!
Today we have a whole collection of products that are helping active families all over North America fight the dreaded funk.
Our mission
Our mission is to help kids look, feel, and play their best. We carry out this mission by creating safe, gentle, and effective personal care products that kids can count on.
For more on our mission and values, please visit our About page.
Why do kids need their own personal care products?
Good question! The short answer is that their skin is different, and different skin has different needs.
The long answer is that a child's skin doesn't reach the thickness and resilience of adult skin until puberty (more details available in this study). Therefore, their skin is more sensitive than ours, and much more likely to get irritated by some of the ingredients that are common in adult personal care products.
This post on our blog elaborates on the need for child-focused body care, and highlights some of the most common skin sensitizing ingredients for kids that should be avoided.
How is Kobi different from other personal care brands?
We realize there are literally thousands of personal care/body care/skin care brands out there, most of whom would also really like you to write about them. But, here are three key ingredients that make Kobi different:
We're 100% focused on kids and teens. We don't treat this age demographic as a small, neglected off-shoot line like some of the bigger personal care players have done. We put the unique needs of kids and teens in the spotlight, and they're the only people we serve.
Our products are super gentle. Because we're making them for young people with sensitive skin, we leave out any ingredient that may cause irritation, as well as all of the most common allergens.
Our products are sport-strength. Natural doesn't have to mean weak. We carefully layer our formulas with multiple active ingredients to ensure that, while they're safe and gentle, they're also highly effective and can withstand the active lifestyles that most kids and teens lead.
Company facts
Here are some interesting things to know about us:
We were founded in March 2020 (yes, right when the COVID-19 pandemic hit!)
The formula for our first product, our Natural Sport Deodorant, was tweaked 60 times before landing on the final go-to-market formula (and we've improved it several more times since then!)
We're based in Chicago and manufacture all of our products right here on the west side of the city
We've helped more than 10,000 customers to date save their noses from "the funk"
Our body care products work together to fight odor all over — armpits, feet, chest, butts, and "special areas"
Our brand
Our name is pronounced just as it looks — "ko-bee." In written form, the K is capitalized and the rest of the letters are lowercase — Kobi.
Our logo image is a stylized blue whale with water splashing off its tail. Below are a variety of logo files that you may use at your discretion. Clicking each image will open a larger version that can be right-clicked on to save.
Our founder
Kobi was founded by Siôn Owen (sounds like "Shawn"), who also serves as our CEO. His official title is "Founder and CEO."
Prior to Kobi, Siôn worked for 16+ years in the tech and automotive industries, doing product management and marketing work for companies such as BMW, HERE Technologies, and Sensormatic. Kobi represents a significant career shift for him into the worlds of manufacturing and consumer products, and he's loving this new journey!
Below are some images of Siôn that you may use at your discretion. Clicking each image will open a larger version that can be right-clicked on to save.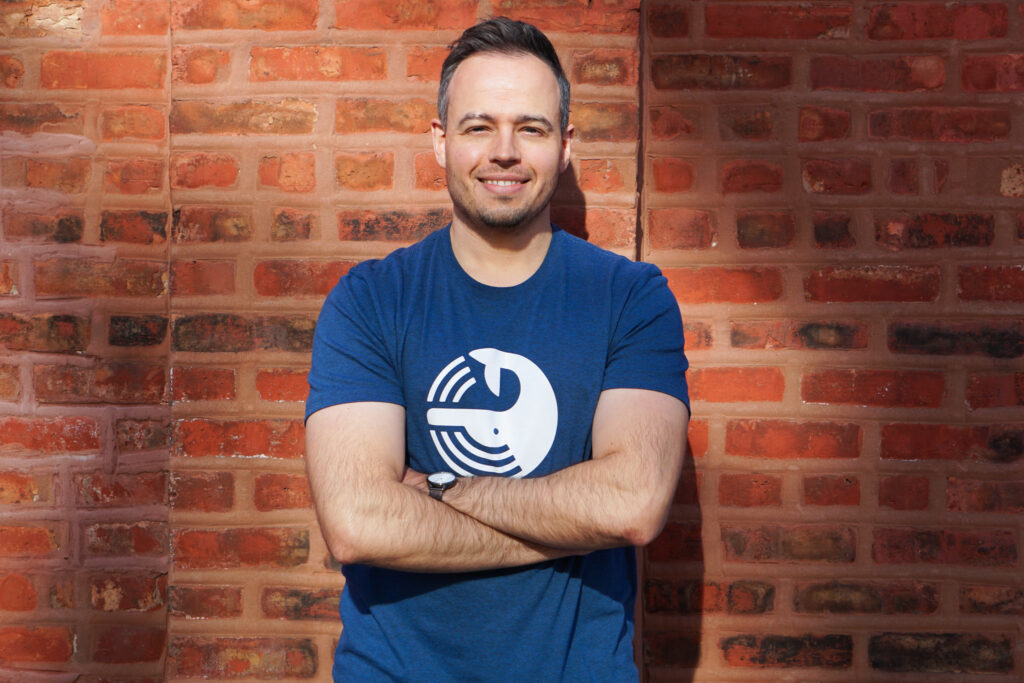 Our products
Our current body care line-up includes:
We're also actively working on new products, including a kid-friendly body wash.
Below are some images of our current products that you may use at your discretion. Clicking each image will open a larger version that can be right-clicked on to save. If you need product images with a plain white background, you can grab those from the product listings in our Shop.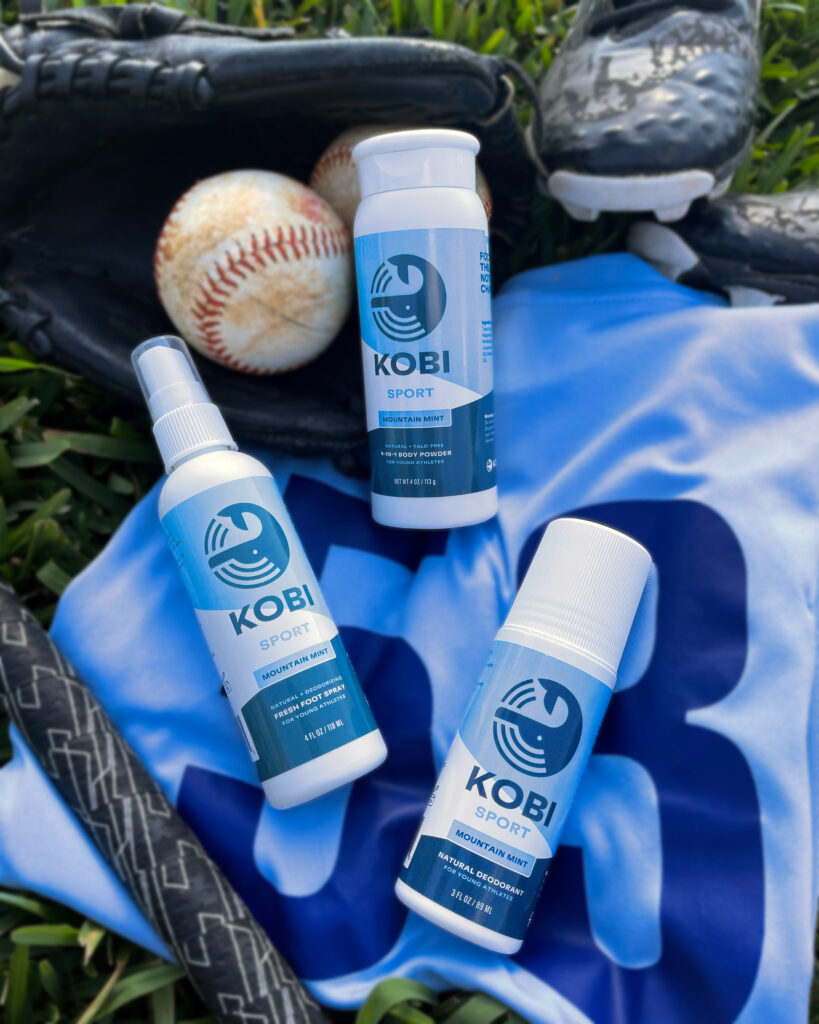 Press coverage to date
Admittedly we have not received a ton of press coverage yet. Not because we stink, but because we've been toiling away in the product development trenches and are just now coming up for air — and to say hi to the world. We're hoping you can help shine a spotlight on the importance of child-focused personal care and the good things we're doing to provide young people with suitable products.
Here are some of the articles that have featured our products to-date:
Best Deodorant for Kids of All Stages 2023 (Today's Parent, 8/11/23)
Back to School Must Haves (Orlando Mom Collective, 8/1/23)
Kobi: Safe and Gentle Deodorant for Kids (Successful Black Parenting, 7/29/23)
8 Best Deodorants for Kids: Chosen By Real Moms (Peanut, 5/11/23)
8 Best Deodorants for Kids in 2023 (Thompson Tee, Early 2023)
The Best Deodorants for Kids in 2023: Subverting the "Stench" (ActiveKids.com, 1/4/23)
The 8 Best Deodorants for Kids — To Keep Them Smelling Fresh At Any Age (Scary Mommy, 7/31/22)
Here are the 9 Best Deodorants for Boys Who Stink (They All Do) (The Dad, 4/16/21)
Partnerships & affiliations
Kobi is a proud member of Make City, a 416,000 square-foot manufacturing incubator located on Chicago's near west side. Make City houses more than 100 startup companies growing their businesses in industries such as beauty/personal care, apparel, food and beverage, and more.
We also are partnered with Every Kid Sports to help establish more equal access to youth sports for kids from lower-income families. Please visit our Impact page to learn more about how we're giving back.
Social media presence
Our current social media footprint is small but growing. We are most active on Instagram and TikTok.
Quotes
Below are some quotes that you may use at your discretion. For custom commentary, please reach out to sion@wearekobi.com to schedule a chat.
"When it comes to personal care products, kids and teens are a largely neglected demographic. There's tons of stuff out there for grown-ups, and tons for babies, but very little in-between. We're changing that."

Siôn Owen, Founder and CEO, Kobi
"It makes no sense to me that there are literally hundreds of compelling, natural personal care options for us grown-ups and our tougher skin, but next to nothing for the portion of the population that needs gentle, thoughtful body care products the most. So, we're doing something about it and making products that are tailor-made for kids and teens and their sensitive skin."

Siôn Owen, Founder and CEO, Kobi
"As lovely as they may be, kids stink. You know it, I know it, everyone knows it. So we're helping parents put a stop to their kids' B.O. in order to save their noses."

Siôn Owen, Founder and CEO, Kobi
"Our vision at Kobi is to provide kids and teens with products that meet their needs as they grow. So far we've focused on tackling the body odor problem, but there are many other problems to be tackled. I think we're still just scratching the surface of what this brand can be."

Siôn Owen, Founder and CEO, Kobi
"Kids of all ages and activity levels can use our products. But we've definitely designed them with sporty kids in mind, because they tend to be the stinkiest. Any sports parent out there knows what I'm talking about."

Siôn Owen, Founder and CEO, Kobi
FAQs
We have a robust FAQ page on our website that answers many of the questions you might have about our company and our products. If you don't see your question there, please reach out via the email address below!
Contact
If you'd like more details or clarifications on any of the above, or would like to set up an interview, please reach out to our founder at sion@wearekobi.com.