When the inevitable day comes that their child starts getting stinky, some parents may think to pick up another bottle or stick of their own personal favorite deodorant to pass along. But, this likely isn't the best idea because a child's skin is considerably more sensitive than ours, so it has different needs.
According to Francesca Fusco, MD, a dermatologist in private practice in New York City:
"Children are sensitive little creatures; they have thinner skin than adults, and their immune systems aren't completely developed, so they aren't as well-equipped to deal with the irritants in their environments."
Children need gentler products that use alternatives to some common ingredients that our tougher adult skin is better equipped to handle. So, when it comes to deodorant, which ingredients should be avoided for kids? Nowadays most natural deodorants leave out aluminum — a suspected neurotoxin and carcinogen — but here are some others to look out for:
Baking Soda
Also known as sodium bicarbonate, baking soda is perhaps the most common odor-fighting ingredient used in natural deodorants for both adults and kids. The problem though is that, while it is indeed effective, it's awful for your skin — especially sensitive skin. Without getting too science-y here, baking soda throws the pH of your armpit way off, which can lead to painful red rashes and even skin darkening. If you've ever seen the gnarly armpit photos posted by upset customers to deodorant listings online, nine times out of ten baking soda is the culprit. Knowing how sensitive and susceptible to irritants a child's skin can be, using baking soda in a deodorant for kids is just lazy and irresponsible product formulation.
Propylene Glycol
Also known as 1,2-propanediol, propylene glycol is a synthetic moisturizing ingredient derived from petroleum. It can be toxic when used in large amounts, but this is unlikely a concern in skin care applications. However, it is also a known skin irritant, especially to vulnerable skin with pre-existing sensitivities or conditions. This makes it particularly concerning when used on a child's skin. With all the natural alternatives available today, there's really no reason for propylene glycol to be used in products for kids, and it should be avoided when purchasing a deodorant for your child.
Fragrance/Parfum
Any time a product lists its fragrance components as simply "Fragrance" and/or "Parfum," this means the company is using synthetic scent chemicals and wants to keep those chemicals and their proportions a secret. Artificial fragrance chemicals are among the most common and potent allergens found in consumer products today. And while your grown-up skin may be able to tolerate them just fine, this is often not the case for more sensitive skin. For kids, it is recommended to look for personal care products that are either fragrance-free, or contain just a very small amount of natural fragrance compounds such as essential oils. Products with funky scents such as "Pumpkin Spice Latte" — as lovely as they may smell — are not natural and should be avoided.
Dyes
Like artificial fragrances, synthetic dyes can also be skin irritants. Even worse, some of them are suspected carcinogens (cancer-causing agents). With that in mind, it's easy to see why dyes should be left out of personal care products used by kids (and adults, too). Thankfully they're easy to spot on ingredient labels — just look for a color name followed by a number (e.g., Blue 1, Yellow 5, etc.).
Coconut Oil
This one may come as a bit of a surprise, but even this widely-celebrated skin care ingredient can be less than ideal for kids. Coconuts are considered tree nuts, so anyone with a tree nut allergy should use products containing coconut oil with caution. But even for the majority of the population who aren't allergic to it, coconut oil is comedogenic, which means it clogs pores and doesn't allow the skin to properly breathe. This can cause some redness and/or discomfort for people with extra-sensitive skin. Lastly, the high oil content in stick deodorants is what causes unsightly yellow stains on shirts. So even if your child experiences no issues with coconut oil, their shirts will likely need to be replaced more often if their deodorant contains this oil.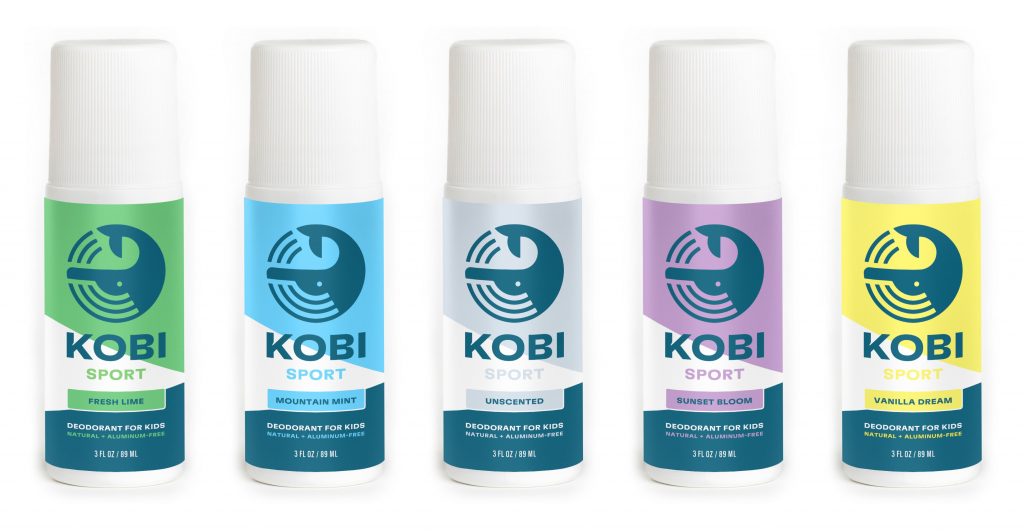 Our Sport Deodorant for Kids was designed from the ground up with kids' needs in mind, so, naturally, it contains none of these questionable ingredients. Read the product description for your scent of choice to learn more about why our deodorant is the safest and best option for your child! Or take a deep dive into our Ingredients list.